Motherwell FC are today delighted to confirm ticketing arrangements for the forthcoming Scottish Cup Final versus Celtic on May 21st.
HOW TO BUY
CURRENT 2010/11 SEASON TICKET HOLDERS
Current 2010/11 Season Ticket holders will have priority for six days starting from Monday 2nd May 2011. A maximum of four tickets will be available at the Ticket Office and a unit in Brandon Parade on production of special voucher C from the back of the book.
You can speed up the purchasing process by downloading and completing a Pre-Sale Application form, remembering to bring it with you when you are purchasing your Cup Final tickets:

 SEASON TICKET HOLDER PRE-SALE APPLICATION FORM
NEW 2011/2012 SEASON TICKET HOLDERS
Any fan purchasing a season ticket for the 2011/2012 season will have the same privileges as current ticket holders i.e. the ability to purchase up to four Cup Final tickets on production of the sales receipt from the Ticket Office.
It is worth noting that an adult and two juvenile's ticket for the Davie Cooper Stand will cost just £290 – an incredible £637 saving from what you would pay if you attended every game paying at the gate.
And new for 2011/2012, our new "WELLevate" scheme allows any adult in either the East or Phil O'Donnell Stand to claim a free juvenile ticket with any adult ticket! It's not quite getting lifted over the turnstile, but in 2011, it's the closest you're going to get!
And that's not all… In an exciting new scheme, Motherwell Season Ticket holders will benefit from a range of discounts and offers from a range of companies such as McDonalds, Pizza Hut, KFC, Subway and Livingwell, throughout Lanarkshire and beyond.
Any remaining tickets after Saturday 7th May will go into a Supporter Ballot/General Sale. This is where Motherwell fans can register for any additional tickets that are left after the initial season ticket holder priority period.
Fans should CLICK HERE to register and the club will contact successful applications from Monday 9th May onwards.
WHERE YOU CAN BUY TICKETS
You can buy your tickets from three different locations:
The Main Office @ The Chapman Building:
You can purchase your Cup Final Tickets and 2011/2012 Season Tickets (ALL).
The Ticket Office @ The Chapman Building:
You can purchase your Cup Final Tickets and 2011/2012 Season Tickets (ALL).
Unit 40 @ Brandon Parade (Motherwell Town Centre):
The new unit is on the site of the old Birthdays / Thorntons (most recently an art store) – You can purchase your Cup Final Tickets and 2011/2012 Season Tickets (First Time / Lapsed ONLY).
PRICES
| | |
| --- | --- |
| SOUTH STAND (SECTIONS P1 – P6) | £35 |
| WEST STAND (SECTIONS B1 – B8) | £28 |
| WEST STAND  – FAMILY (SECTIONS A1 – A5) | £25 / 10 |
The Family Section will be located in the West Stand – Sections A1 to A5.
A Juvenile ticket in the Family Section is considered to be children aged fifteen and under. Any adult attempting to enter the Family Section without a child/children aged fifteen and under will be refused entry to that section.
At the request of a number of supporters, and similar to the Semi Final, Sections B1 to B5 in the West Stand has been designated as a "Singing Section" for like-minded fans wishing to back the team in their own unique and vocal style. Please ask for this Section when purchasing tickets if you wish to sit there.
No telephone orders can be taken and no refunds or exchanges can be given after purchase.
Fans requiring disabled tickets should contact Elaine MacDonald at the club on 01698 338068 or email tickets@motherwellfc.co.uk.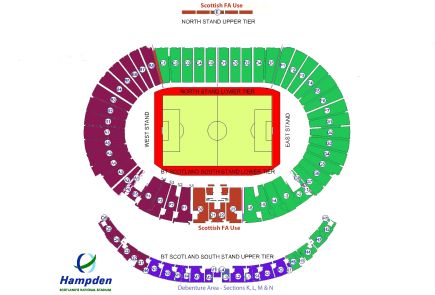 Click Stadium Plan to enlarge