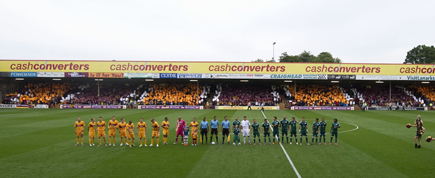 Motherwell Football Club would like to sincerely thank each and every 'Well fan who was at Fir Park last night.
The atmosphere inside the ground was incredible from start to finish and the players and management team want to express their gratitude for such a loyal, patient and colourful support.
The big task for the club and its supporters, in the spirit of the Steelmen Forever campaign, is to try and encourage some of the fans who perhaps don't enjoy the Motherwell Experience on a regular basis to do just that.
With such a great atmosphere, such colour and excitement as well as the amount of families with youngsters in the crowd, this is an example of what Fir Park, and the weekly experience on a matchday, can be be like if we can continue to grow our core fanbase.
Unfortunately, there was significant seat damage in sections of the East Stand which the club will now need to try and repair/replace in time for the St Johnstone game on 11 August.
The club has made significant effort to try and work with supporters to create a better atmosphere inside the ground and acknowledge that the damage was in no way malicious.
However, we would plead for fans to take care of the stadium facilities when they are enjoying the match as the repairs required are both time-consuming and expensive.
Thanks once again though to everyone who came along and enjoyed what was a special and historic night for Motherwell Football Club, despite the score line.