The 64-page Steelmen Matchday Magazine returns against Inverness CT jammed pack full of features you mustn't miss.
After a busy month, including trips to Greece and Spain, 'Steelmen' is back to its best with tomorrow's edition perhaps the top domestic production of the season so far from the club.
But what can fans expect from the fifth magazine of the campaign?
'Well boss Stuart McCall and captain Keith Lasley both return with the regular columns and both talk about bouncing back from Thursday's defeat in Valencia and the positive impact our European games will have on the club.
Capital City Press' Alan Temple returns to 'Well proggy duty and has an outstanding interview with youngster Adam Cummins who tells an emotional story of personal tragedy and disappointment turning to triumph and celebration.
And that's not where the features stop!
There is a 13-page section dedicated to our visitors, Terry Butcher's Inverness Caledonian Thistle.
Kris Jack goes through four players to watch from our Highland opponents, as we as a player-by-player breakdown of their squad.
Former Caley defender Richard Hastings is the man in the spotlight in our opposition Q&A and fan Chris Lindsay gives his few on how the Jags are progressing. We also have a scout report from Caley's last SPL match when Celtic ran out 4-2 winners in the Highlands last weekend.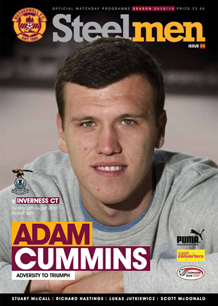 The features and big names keep coming…
In our Interview Alumni section, Andy Ross caught up with former 'Well striker Lukas Jutkiewicz who is hoping to return to action for Middlesbrough this weekend after a summer of injury hell.
Lukas recalls his time at Fir Park and what it did for his career and goes over 'that' goal against Hibs that will live long in the memory of every 'Well fan.
The Press Association's Gavin McCafferty returns with his 'From the Press Box' feature and looks at Scottish clubs' performance in Europe from a realistic point of view. A second new feature is a column from Press & Media Manager who adds his thoughts in 'The Last Word' near the back of the publication.
Nicky Law is the latest to give his top five's in the iPlayer feature and Jonathan Page tells us his 'First and Last'.
In the third of our new features, Chris Humphrey is the first player involved in the 'Dedicated Follower of Fashion' where he goes through his best gear and where he picked it up.
Graham Barnstaple's Cult Heroes this week focuses on Aussie striker Scott McDonald who will be forever remembered for his exploits on 22nd May 2005 in a certain final day of the season match at a full-to-the-rafter Fir Park. I'm sure you remember…?
But wait, there's more! We take a look back at last weekend's 1-1 draw with St Mirren at Fir Park, 10 tough questions in our Quiz, the latest news section as well as an in-depth statistical look at referee Stevie O'Reilly. We have the latest from The Ticket Office and the Commercial Department and the latest stats, facts and figures for the already busy 2012/2013 campaign.
The programme is available for £3 and is currently on sale from the Club Shop as well as the usual sellers located in and around the ground pre-match.
You can also order back editions or take a season-long subscription to the magazine by visiting the website of our publishers – Curtis-Sports – http://www.curtis-sport.com/