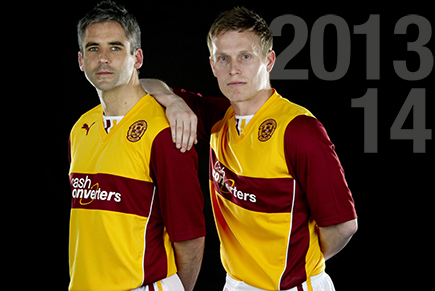 Motherwell Football Club are delighted to showcase the new PUMA home strip for the 2013/2014 season.
It is Motherwell's fourth year with the manufacturing giants and the third with principal sponsors Cash Converters.
The kit retains our traditional look and feel with a return of white shorts and claret and amber hooped socks.
The kit will be available to pre-order from this coming Monday (29 April) and will go on full sale on Sunday 5 May.
Motherwell's retail manager Alan Provan said: "We are delighted to be able to launch the new 2013/14 home kit so early.
"For the first time in a number of years, we are also able to launch the kit at the clubs' Open Day on 5th May.
"We are very excited about this event and are looking forward to seeing as many fans as possible on the day.
"PUMA have once again done a great job in giving the kit a fresh new look and a sample of the will be in store from this Saturday for fans to get a good look at.
"I particularly like the traditional white shorts and hooped socks. Thanks again must go to manufacturers and our sponsors, Cash Converters, for their assistance with the early launch of the home kit."
Roger Harrison, Marketing Director, PUMA UK, added: "Motherwell is a good club at the heart of its community. We are currently in our third season with the club and we are really pleased to extend our partnership into the 2013/14 season.
"We are happy to be associated with Motherwell, and look forward to continuing working with them in delivering technical kit and training wear."
The relationship between PUMA and Motherwell is managed and delivered by Genesis Sports.