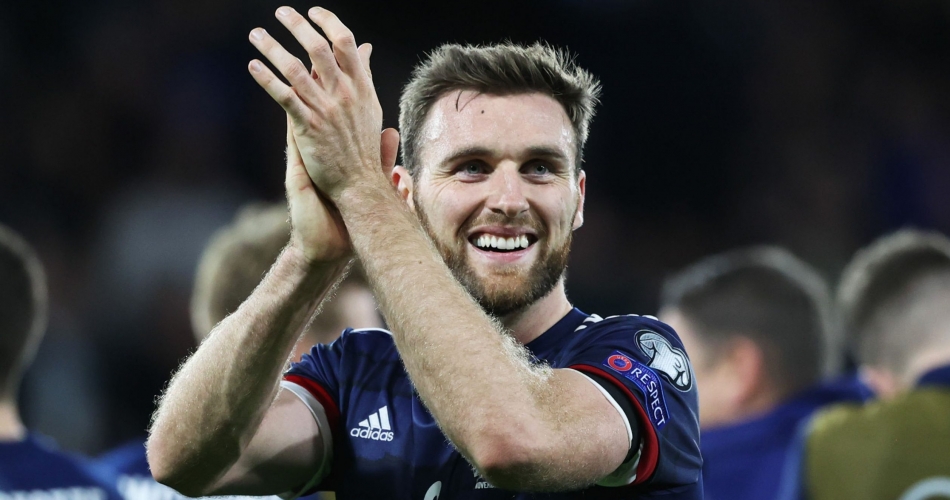 History
List of Motherwell FC's Scotland internationals
Forty-one different players have represented Scotland at full international level while on the books at Motherwell Football Club.
Dating back from 1910, 125 international caps have been won by our players for our home nation.
Players in bold are still currently active with the club and national team.
Last updated: 24 March 2022.
| | | |
| --- | --- | --- |
| Name | First cap while with Motherwell and opponent | Total caps with club |
| Stephen O'Donnell | 08/10/2020 v Israel | 14 |
| George Stevenson | 29/10/1927 v Wales | 12 |
| Declan Gallagher | 16/11/2019 v Cyprus | 9 |
| Willie Redpath | 23/10/1948 v Wales | 9 |
| Ian St John | 6/5/1959 v West Germany | 7 |
| Andy Weir | 6/5/1959 v West Germany | 6 |
| Willie Pettigrew | 7/4/1976 v Switzerland | 5 |
| Bert McCann | 6/5/1959 v West Germany | 5 |
| James McFadden | 20/5/2002 v South Africa | 4 |
| Tom Boyd | 12/9/1990 v Romania | 4 |
| Pat Quinn | 15/4/1961 v England | 4 |
| Rob McKinnon | 17/11/1993 v Malta | 3 |
| Willie Hunter | 5/6/1960 v Hungary | 3 |
| Andy Paton | 23/1/1946 v Belgium | 3 |
| Allan Craig | 26/5/1929 v Norway | 3 |
| Allan McClory | 30/10/1926 v Wales | 3 |
| Chris Cadden | 30/5/2018 v Peru | 2 |
| David Clarkson | 30/5/2008 v Czech Republic | 2 |
| Paul Lambert | 21/5/1995 v Japan | 2 |
| Brian Martin | 21/5/1995 v Japan | 2 |
| Davie Cooper | 15/11/1989 v Norway | 2 |
| Willie MacFadyen | 4/10/1933 v Wales | 2 |
| Willie Telfer | 17/9/1932 v Northern Ireland | 2 |
| Steven Saunders | 16/11/2010 v Faroe Islands | 1 |
| Ross McCormack | 30/5/2008 v Czech Republic | 1 |
| Steven Hammell | 17/11/2004 v Sweden | 1 |
| Stephen Pearson | 15/11/2003 v Netherlands | 1 |
| Phil O'Donnell | 8/9/1993 v Switzerland | 1 |
| Bobby Watson | 14/6/1971 v Russia | 1 |
| Tam Forsyth | 9/6/1971 v Denmark | 1 |
| John Martis | 22/10/1960 v Wales | 1 |
| Jim Forrest | 19/4/1958 v England | 1 |
| James Gardiner | 13/11/1957 v Wales | 1 |
| Wilson Humphries | 30/5/1952 v Sweden | 1 |
| Jimmy Watson | 4/10/1947 v Northern Ireland | 1 |
| Duncan Ogilvie | 29/11/1933 v Austria | 1 |
| John Blair | 4/10/1933 v Wales | 1 |
| John McMenemy | 4/10/1933 v Wales | 1 |
| Hugh Wales | 26/10/1932 v Wales | 1 |
| Johnny Murdoch | 21/2/1931 v Northern Ireland | 1 |
| George Robertson | 5/3/1910 v Wales | 1 |
| 41 players | | 125 caps |