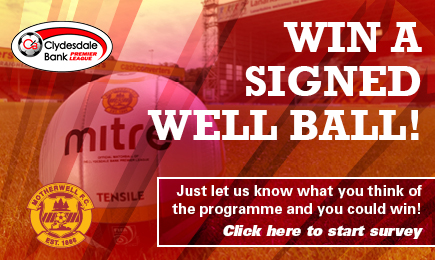 Take part in our matchday programme survey and you could be in with a chance of winning a Motherwell signed ball.
As part of an ongoing drive to improve the match day experience for Scottish football supporters, SPL clubs are examining different elements that make up our day out at the match.
The match day programme, once a key element of the experience, has experienced falling sales in recent years and so we are exploring an opportunity to create a new programme offering to be more appealing for supporters.
Each programme would have club specific content and a Scottish football section with news and features from around the SPL, Scottish football and Scottish players in general.
We would like to hear feedback from supporters on the current programme at the club, what improvements could be made, and ultimately can we produce a better offering for supporters.
The questionnaire should only take a few minutes and all supporters that provide a valid email address will be entered into a prize draw to win a signed ball from the SPL club of their choice (one prize winner per club).