On 31 October this year, the streets will be filled with Darth Vaders, Smurfs, witches and zombies marauding across Lanarkshire with the scent of free treats in the air.
Meanwhile, at Sherwin Seedorf's gaff, it will smell like team spirit.
"We do things together," explains Motherwell captain Peter Hartley. "We had a virtual golf lounge day out, we try to do it at least every six weeks. We'll have our Christmas do in December, for Hallowe'en we're all going round to Sherwin's house for a party. Everyone will go if they can go."
There are many things that can make a successful team. Seeing Allan Campbell dressed up like Super Mario may not have been the obvious choice ahead of tactics or fitness, but as long as Motherwell keep riding high in the Scottish Premiership, it's unlikely Hartley will complain.
While the Steelmen's surge in the fledgling stage of the season may have caught those unfamiliar with Well's formidable progress in the summer months, for the skipper, it is only now he and his team-mates are being recognised for a consistency of performance that has really only been blighted by two defeats – Hearts in the League Cup and the recent sore reverse to Ross County.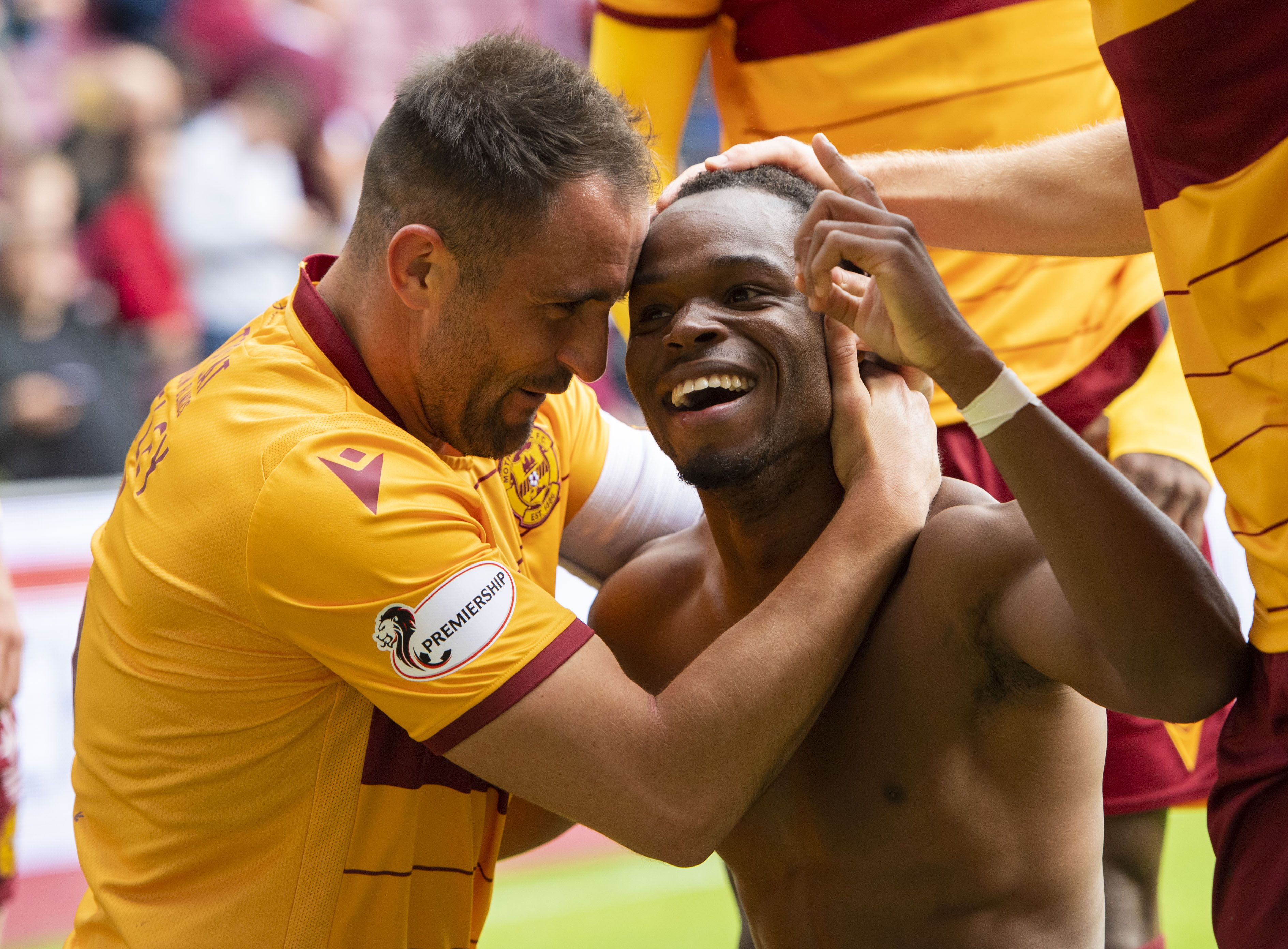 Ahead of the meeting with St Mirren, Hartley says Motherwell's team bonding and consistency are the cornerstones for a prolonged stay in their current lofty perch.
"You want to win every game but you know there are teams you need to pick up points against. Rangers and Celtic you need them to have an off day but we feel we are capable of beating anyone here on our day.
"Even against Celtic I felt we did well at the start. It wasn't a 5-2 game, in the first half we had Celtic on the ropes and I felt we could have been out of sight.
"If it wasn't for the County game it would have been six wins from six. That match included a 10-minute spell when Jake was sent off and then they got the equaliser.
"I still say the winner was a great goal, you can't defend against that. You can't pick faults in it, credit to them. It's how you respond and we did that at St Johnstone. We had only won there once in 11.
"Hopefully it will now be two wins in a row going into the international break. We have been working all week to set up a game plan and try and take advantage of their weaknesses. Hopefully that comes to fruition on Saturday."
He added: "The spirit we have is phenomenal. I've seen two or three teams since I've been here and I've only been here two and a half years. Louis Moult, Andy Rose, Carl McHugh, Stevie Hammell, Kipre, Aldred, now we are on to a different team. We are more dynamic.
"It's a really good grounded group of boys with no egos. We have a good bond and look after each other off the park. A lot of the English boys do things together and as a group we do spend a lot of time together.
"We also have big characters that wouldn't let that dressing room go the other way. If it did, three or four wouldn't let it happen. I've been in dressing rooms where those characters don't exist, and cancer spreads quickly. It won't ever happen here."
Being part of that close-knit dressing room and forging an all-inclusive environment is perhaps something Hartley embraced last season.
Club captain, for much of Motherwell's strong run last season he found himself on the bench, watching the group of men he leads perform beyond expectation only to narrowly miss out on a top-six finish.
The 31-year-old admits it wasn't "hard" being on the outside looking in, but concedes he knew he would have to take his chance when it arrived to cement his place back in the Motherwell starting XI.
"I wouldn't say it was hard. I knew what I needed to do to get back into the team but when you have good players in front of you, you have to wait for your chance. The hardest place was being away from this place. I was putting extra work and hours in but I wasn't feeling like I was getting anywhere. I've been given a chance this season and in the last six games I think we have won five, I've played my part.
"Even though I am 31 there are a lot of things I can improve on. I'm looking at me as a person and a player and trying to make myself the best I can be. The rewards will then be there.
"I may have been out of sight last season with the fans but I wasn't in the dressing room. I was not out of mind on the training pitch.
"It's the first time that's happened in my career when I've been fully fit, felt like I was training at the top of my game but the door was shut. But that was because I had very good players in front of me. There wasn't much do apart from wait for my chance.
"I dealt with it in the right way and the gaffer has said that. I feel like I have been rewarded and that I've earned my chance."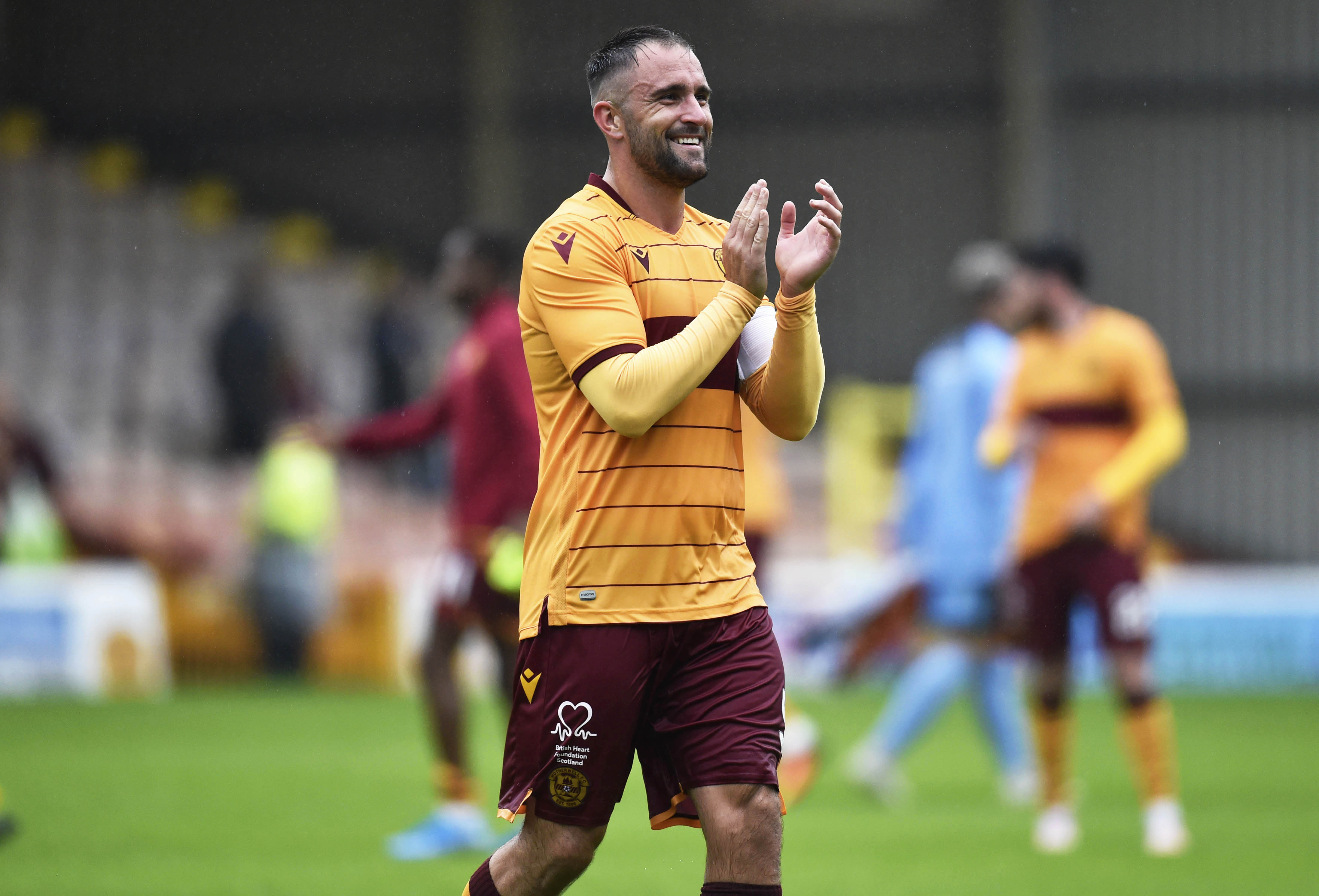 Now, any Motherwell fan who has supported the team for more than three days will know not to get carried away. After all, as we creep into October we are still not through a full round of fixtures.
However, the early season form by the Fir Park side has been formidable. Goals are being scored, clean sheets at places like McDiarmid Park being recorded.
While fans will not quite be dusting down passports just yet, the continued faltering of the likes of Hearts, Hibernian, Aberdeen and Kilmarnock do make this season feel like an open invitation for a team just like Motherwell to grasp the initiative and make the campaign their own.
"Consistency is the biggest thing in this league, 100,000,000%," said Hartley.
"We have a young team so you are going to have ups and downs but it's then down to me and the senior players to take responsibility to make sure the boys don't get too down or too high. We just need to have a clear mind and stay level headed."
By Scott Mullen, BBC Sport Scotland