Andrew Robertson is a Champions League winner. Andrew Robertson is a Premier League winner.
He's also a mean table tennis hustler and a Twitter PR guru, by all accounts.
Motherwell's Declan Gallagher has learned first hand how much of a class act the former Queen's Park left-back is over the last few weeks.
The Fir Park skipper has played an integral part in the national side's recent surge in form, playing all three of Scotland's undefeated run that has them just one game away from UEFA EURO 2020.
It was enough to earn him praise on Twitter from Robertson, who lauded Gallagher's showing to his 1.4m followers. And after tagging the Motherwell man, he is now reaping the rewards as his own online disciple tally reached the heady heights of 3500.
"We were having a laugh about it during the week," he said. "The boys are on Twitter and me and Andy were having a laugh as we were playing lots of table tennis when we were away, obviously while social distancing.
"We got a good bond off the field and he said to me 'don't worry mate, I'll help your Twitter followers go up'. He put up a tweet and I told him that he better tag me next time, then the next one goes up and he has. It was good of him.
"He meant what he said when he said I'd done well and deserved it. At the end of the day, he's a Champions League and Premier League winner, so it's great, but he's come through the ranks just as I did in the lower leagues. He knows what it's all about.
"It's amazing to get praise from the captain of your country and someone like that.
"To be fair, I did say to him my Twitter following did go up. I'm now up to around 3,500 followers. My phone didn't stop going after he tweeted about me, but it was probably folk just replying to him."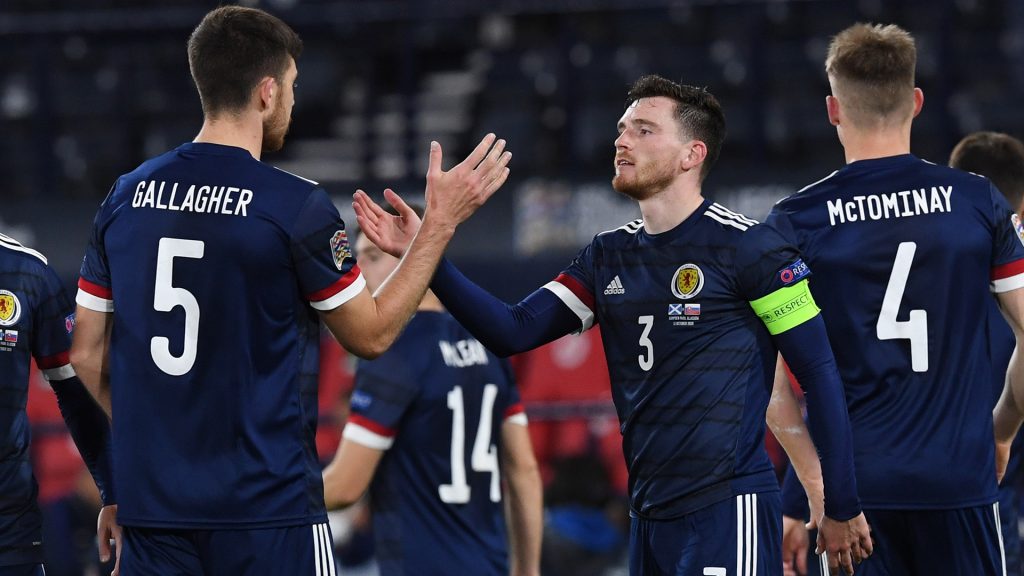 Gallagher was at the heart of a Scotland defence which kept three clean sheets in three consecutive victories in October, putting the national team top of their UEFA Nations League group and also setting up a date with destiny in Serbia next month.
With manager Steve Clarke putting his faith in Gallagher, the influential defender is hopeful he'll get the nod again for the potentially history-defining match.
"I was delighted just to play my part," Gallagher added.
"You are always disappointed when you're not playing, and I thought I did well in my two previous games, but there are some great players in my position for Scotland.
"To get the chance this time is that wee bit sweeter, and to do as well as I did was the cherry on the cake.
"To get to a play-off final game to get to a major tournament, it's just an unbelievable thing.
"Steve Clarke has given a lot of the Scottish Premiership boys a fair look. Myself, Paul Hanlon, Andy Considine. He's not scared to put in the Scottish–based lads and there's no bias towards the boys in a bigger league as some may like to see it.
"Just because you're not playing down south doesn't mean you are a bad player. It just means you've not had that chance to go and do it. We have proven we can match these European teams."
The 'Well skipper was expecting to go straight into action last weekend with only a handful of days to prepare, only for the Steelmen's clash away to St Mirren to fall victim to a Covid-19 outbreak at the Paisley club.
It means Well will have gone the best part of a month without kicking a competitive ball, but Gallagher insists there will be no ring rust from him or his team-mates.
"I know the boys will have been working hard. You work hard for two weeks to play football, so the boys will have been a wee bit upset that the game against St Mirren didn't go ahead. It's coming up to a month since we last played, it was a bit devastating for us.
"But our minds are focused on the Ross County game. I know for a fact we will be raring to go for the Ross County game.
"I'm not worried about sharpness. We have a good squad of boys and hopefully we will get a few back.
"I think if you said to the boys they'd rather play midweek than train. We are all professionals. It'll be tough, I'll not say it won't be, but we will be looking forward to it.
"Hopefully we can take maximum points when they come around."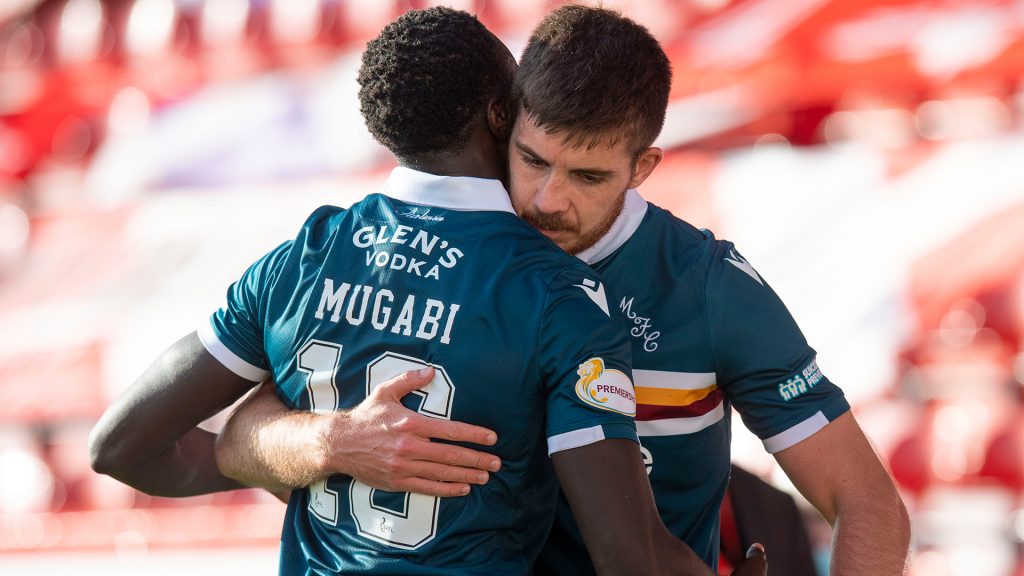 Of course, Gallagher was not the only one away on international duty. Stephen O'Donnell joined him in the Scotland camp, Barry Maguire, PJ Morrison and Allan Campbell were away with the Under 21s, Bevis Mugabi was with Uganda. At the same time, Trevor Carson started for Northern Ireland in their clash with Norway.
And it's that international springboard that the Well skipper reckons will get Stephen Robinson's men flying into this weekend's meeting with Ross County.
"We brought a natural buzz when we came back from the international break. So did Trevor Carson getting his first start for Northern Ireland in a long time.
"The boys are always on a high, we were on a decent run outside the Old Firm games and obviously we want to get the momentum going.
"We had hoped that would start against St Mirren but it wasn't to be. Hopefully when the Ross County game we will keep that buzz and we will go into the game flying."
By Scott Mullen.